Hello, I'm new here. Activities and Offerings for First-time RBMS Attendees
Joining us in Baltimore? If this is your first time attending the RBMS conference, or it's been a while since you attended, the Membership & Professional Development Committee is excited to invite you to and announce this year's activities and offerings!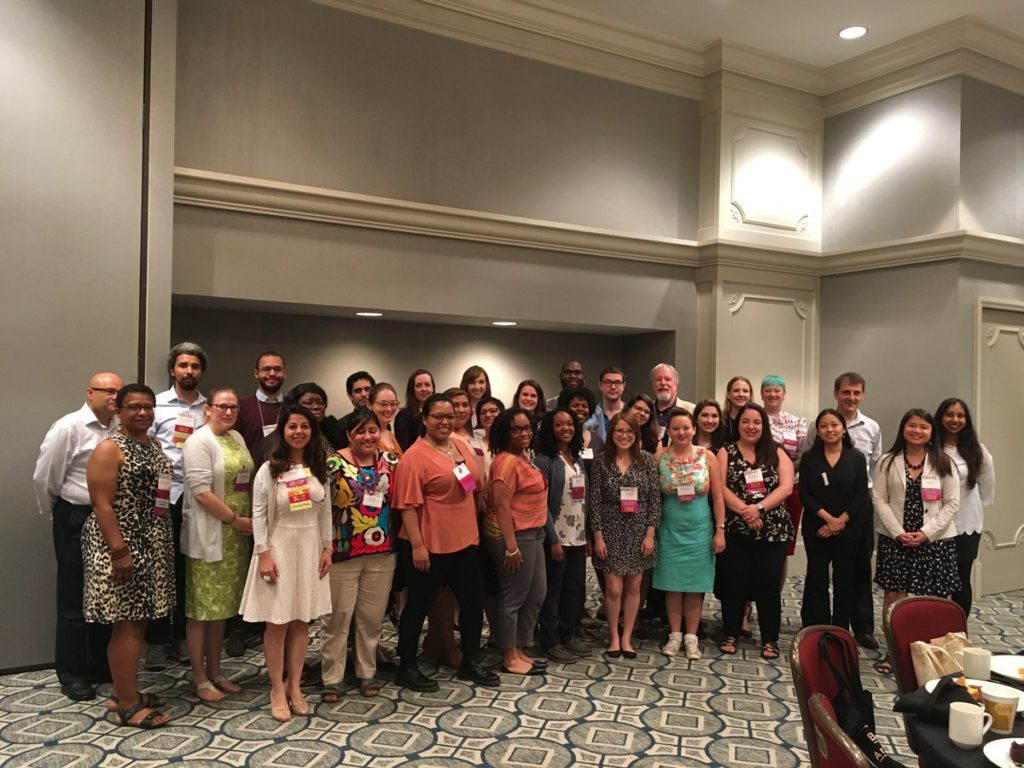 Throughout the Conference
Conference Guide Program
Wondering how to navigate RBMS19? Looking to give back and share your expertise in conference-going with another attendee? Consider participating in the RBMS Conference Guide program! This program, formerly known as the "Buddy Program" is free and easy, and looking for your participation. Membership & Professional Development is still accepting signups, and what better way to share the excitement than giving back to your fellow RBMS members? Learn more, and join us!
Conference Hashtag – #RBMS19
Add to the conversation, share your observations, and help visually document the conference experience – on Twitter and Instagram – with the official conference hashtag, #RBMS19. Keep an eye out for announcements on @RBMSInfo, as well! As noted by our Conference leadership, "We encourage respectful backchannel discussion and image sharing."
Tuesday
Orientation
On Tuesday, join us for Orientation, a two-part session: we'll begin with a brief introduction panel – featuring speakers from RBMS leadership, ACRL, and the Antiquarian Booksellers' Association of America (ABAA), and conclude with a "speed dating"/round robin-style portion, wherein attendees can speak to representatives of RBMS Committees, Discussion Groups, Task Forces, and more about who they are and what they do, and how to participate!
New Members' Mixer
An RBMS Conference tradition! This lively reception is open to all, and is a great opportunity to check in with friends, meet RBMS members in an informal setting, and enjoy complimentary snacks and beverages! Please note: the New Members' Mixer is a ticketed event and costs $25 to attend, but tickets are available at the door (and a bargain).
And, if you're participating in the Conference Guide Program, the Mixer is a great place to meet!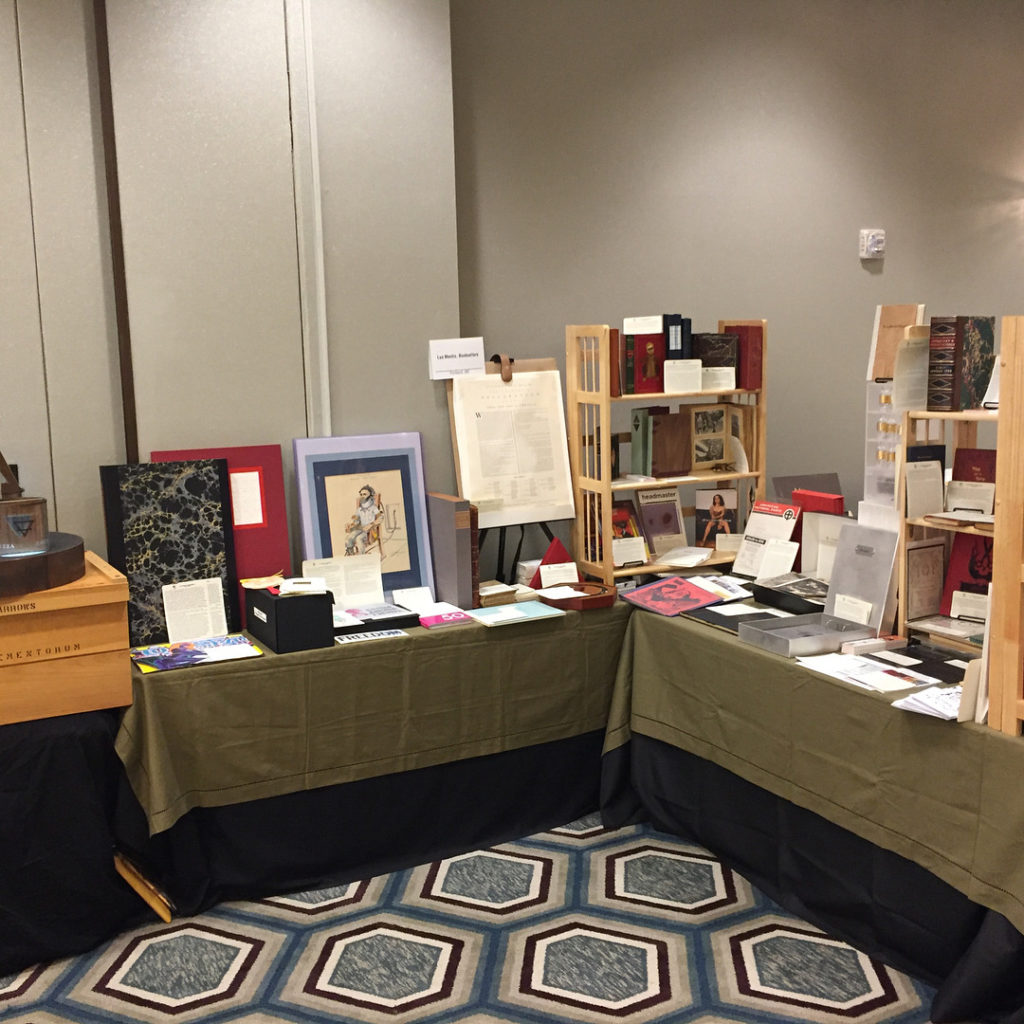 ABAA Booksellers' Showcase Mini Tours
Growing out of conversations with attendees in previous years and based on feedback from booksellers, this year Membership & Professional Development is proud to present "mini tours" of Booksellers' Showcase, in collaboration with the ABAA. Departing immediately from the New Members' Mixer, small groups (no more than 5) will walk to the Showcase, where attendees will be introduced "to various booksellers, examine items, and consider how materials on the market can be utilized for instruction and research as well as in collection-building". This year the ABAA is also offering limited special surprises … but you have to attend to learn more!
Wednesday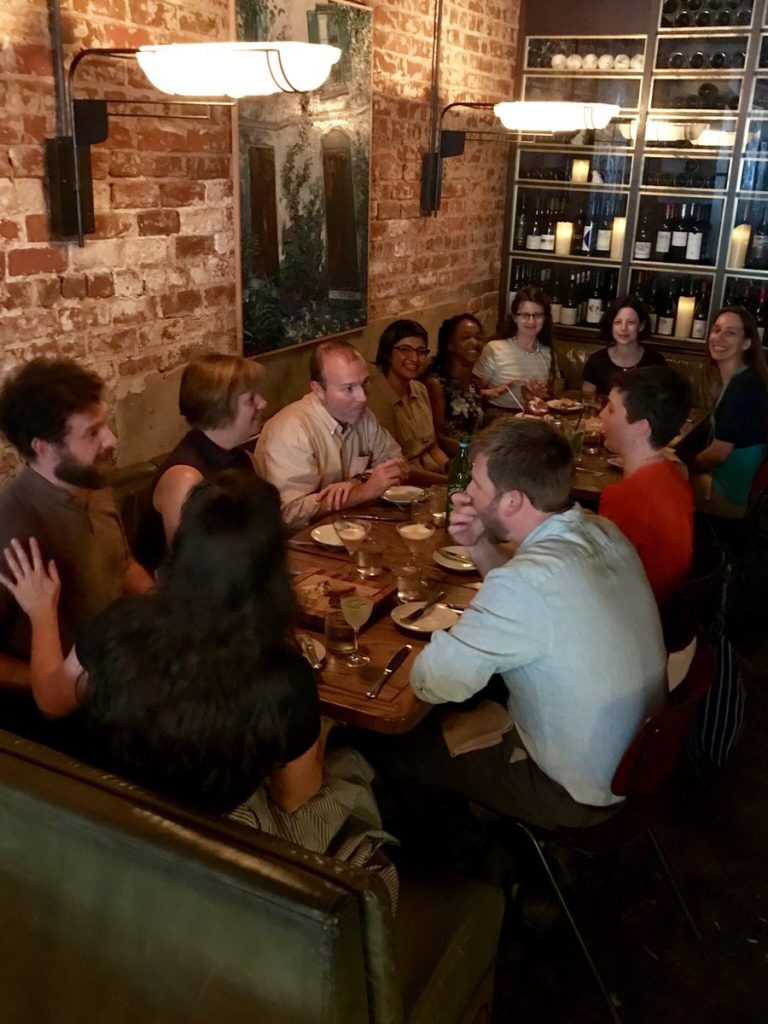 RBMS Lunch Meetups
By Wednesday at noon, you'll have listened, learned, you might want to share your experiences with other conference attendees … and you might also be thinking about food. Grab a quick bite, meet other first-time conference attendees, and chat about what you've seen so far, and where you're going next at the RBMS Lunch Meetups! Open to all conference-goers, the Lunch Meetups are pay-your-own-way, and dining locations will feature options for multiple palates and dietary restrictions. Prices will vary by location. All groups will meet in the Marriott lobby and travel to the restaurant together. Look for sign up sheets at Registration!
Restaurant Night
More food! Coordinated and organized by RBMS Local Arrangements, Wednesday Restaurant Night features small group dinners at a variety of eateries. "Sign-up sheets will be available at the registration desk on a first-come, first-served basis until Wednesday at 11:00 a.m."
Thursday
The 4th RBMS Service Project
UPDATE: The 2019 service project has been canceled.
An RBMS tradition since 2015, give back to the city who hosts the conference! Look for sign ups at Registration. This year, attendees are invited to spend a couple of hours at a local library and can "help reshelve books, add barcodes and call numbers, and perform other activities."
Peabody Reception
The penultimate event of RBMS19, this year's Thursday evening reception will be at the world-renowned George Peabody Library. Before the conference comes to a close on Friday morning with the final plenary, connect with colleagues and fellow conference attendees at the convivial reception. Read more about travel options in Beth De Bold's blog post!
Looking forward to meeting you all in Charm City!
—Diane Dias De Fazio, RBMS Co-Chair, Membership & Professional Development