Inside the Beltway: Your One-stop Guide to RBMS ALA Meetings in the Nation's Capital!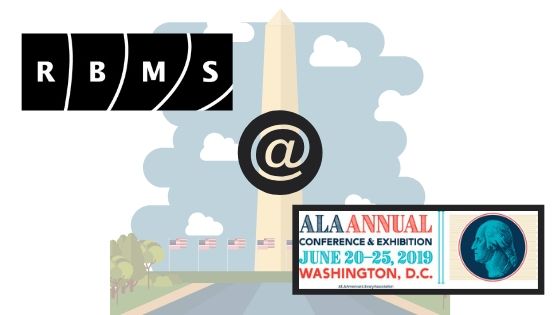 RBMS gatherings don't stop when the conference ends! Join us for RBMS meetings at the American Library Association Annual Conference (#ALAAC19) in Washington, D.C. (June 20–25).
The Membership & Professional Development Committee is excited to provide a guide to all RBMS meetings taking place at ALA Annual. In the past, this guide has been provided in print, but in consideration of this year's conference theme, we're keeping it digital! (If you'd like to print out a copy of the PDF version of the schedule, you are welcome to do so on your own.)
RBMS meetings will take place at the following venues:
WCC – Walter E. Washington Convention Center – 801 Mt. Vernon Place
NW HIL – Washington Hilton – 1919 Connecticut Avenue NW
MAR – Marriott Marquis Washington DC – 901 Massachusetts Avenue NW
You'll find a helpful map to these locations (and more!) here. http://bit.ly/ALAAC19_RBMSmtgMap
To view RBMS meetings in the ALA Scheduler, click here.
To view/print a PDF* of the RBMS meetings list, click here.
*Please note, this PDF lists all ACRL section meetings. Please navigate to ACRL_RBMS to see RBMS meetings.
Links to each of the above items can also be found here, in the RBMS19 Sched platform.
Looking forward to seeing you in Baltimore—and Washington, D.C.!
—Erika Jenns, Co-Chair, RBMS Membership & Professional Development Committee