Join us: RBMS Twitter Chat on June 13th!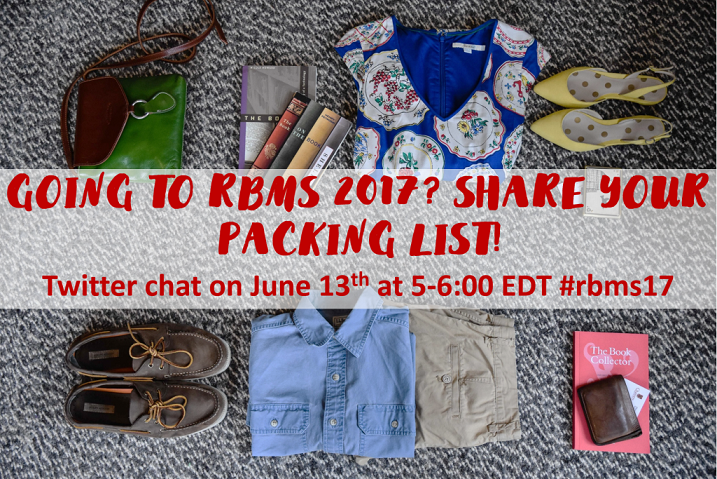 UPDATE: If you missed the Twitter chat on June 13th, please see the archived discussion via Storify: https://storify.com/mazarines/rbms-2017-pack-prep-twitter-chat 
Can't decide what to bring? Looking for travel reading recommendations? Please join us on Twitter June 13th from 5:00-6:00PM EDT (4-5:00 CT, 3-4:00 MT, 2-3:00 PT) to chat about what you're packing for RBMS 2017! We hope our conversation will help new attendees and regulars decide what makes it into the suitcase and what gets left behind.
We welcome everyone to join in or follow along with us by using #rbms17 on Twitter. Here are a few questions to get us rolling:
What are some of your conference travel essentials?
What will you be reading?
What do you plan to bring, or wish you had brought, to your first RBMS conference?
What should you pack if continuing onto ALA?
What other packing tips and tricks do you have to share?
We will stagger these questions throughout the hour. As you respond please start your tweet with Q1, Q2, etc. If you have other questions or are looking for specific advice, feel free to ask during the chat.
Are you so excited for the conference that you plan to have everything folded, sorted, and ready to go on the 13th? Post a photo of your packed suitcase and don't forget to tag it #rbms17!
We look forward to chatting with you,
–Jillian Sparks, Shannon Supple, and Colleen Theisen