Put a Hashtag on It: the Second Annual RBMS InstaMeet!
On behalf of my co-organizers and our host institution, The University of Iowa Special Collections Library, it is with pleasure that I invite you all to #InstaMeetUI, happening on Thursday, June 22nd during RBMS.
Come to photograph amazing collections, connect with other Instagrammers, and celebrate this wonderfully creative community! Here's the scoop:
What's an InstaMeet? Do I have to be on Instagram?
Instagram meetups, or InstaMeets, are fun gatherings that vary in duration, location, and imagination. Since Instagram launched, InstaMeets have been held all over the world, the idea is to bring people together …and post photos of the event on Instagram. You don't have to be on Instagram, everyone is welcome! Look for sign-up sheets at Registration, or RSVP using our online form.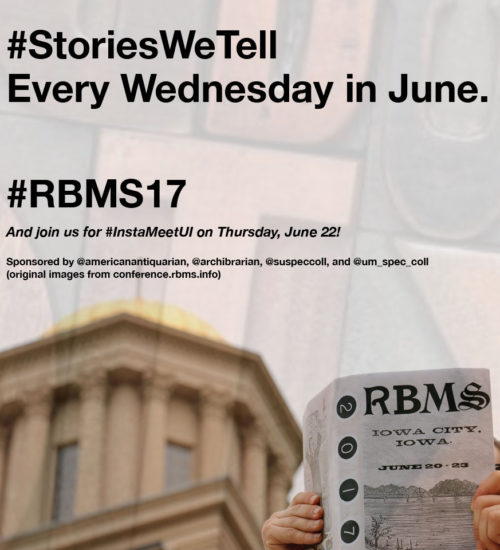 Where do we meet?
#InstaMeetUI begins at the University of Iowa Library, Room 3052, but attendees are invited to meet in front of the Library building a few minutes before 10 AM. You'll get a sticker with the conference IG hashtag (#RBMS17IG) and a name tag. Introduce yourself by letting people know what your Instagram handle is!
What follows is the really fun part: led by experts from the division, we'll tour the University of Iowa's fabulous Special Collections, taking photos along the way. Then, we'll wrap things up with a little shop talk—best practices of IG, personal tips and tricks from the InstaExperts, and more—before we head back to home base (the Hotel Vetro), to capture more moments from the ABAA Booksellers' Showcase!
The schedule of events is as follows:
10:00 AM: Meet at University of Iowa Library, Room 3052. Lindsay Moen (@UISpecColl) will give us an exclusive, behind-the-scenes tour— from the stacks to the reading room, you'll see the best of everything at UISpec Coll!
11:00 AM: Informal best practices chat
11:20: Group photo (an InstaMeet tradition), then walk-and-talk en route to Hotel Vetro for Bookseller Showcase
11:30–12:00: InstaMeet self-exploration of Bookseller Showcase
Also: our friends (and RBMS session sponsor) @IGLibraries will post InstaMeet highlights on Friday, June 23. Check their feed to see what made the cut!
I like prizes and free stuff. Are there swag bags?
Yes! The first 40 attendees at #InstaMeetUI will receive complimentary swag bags with free stuff from participating institutions, including the American Antiquarian Society, New York Public Library, IGLibraries, University of Miami Special Collections, and University of Iowa Special Collections, among others!
In addition, our friends at UI have also created a scavenger hunt (#RBMSInstaHunt), to commemorate this event, with a grand prize awarded to one randomly selected individual who photographs—and posts—all 17 items on their list. The prize is top secret for now, but everyone is encouraged to participate: scavenger hunt sheets will be available at Registration.
Isn't there another Instagram thing at RBMS? Is this the same, or different?
I'm so glad you asked! Jason W. Dean (@suspeccoll), Lauren Hewes (@AmericanAntiquarian), Jay Sylvestre (@um_spec_coll) and I are also part of a seminar, Put a Hashtag on It: #LibrariesOfInstagram, on Wednesday. The seminar is different, and will focus on institutional Instagram, experiences, branding, student contributions, "challenges", and feature a hands-on portion, as well as a Q&A moderated by Agnieszka Czeblakow (@utsaspeccoll).
What's up with all the hashtags?
We have a special hashtag for the event: #InstaMeetUI, which we advise participants to use in posts on IG and Twitter, in addition to conference hashtag #RBMS17, of course.
All told, the tags are:
#RBMS17 (throughout/about the conference)
#InstaMeetUI (just the InstaMeet)
#RBMS17IG (Instagram-related happenings at RBMS)
#RBMSInstahunt (just the scavenger hunt)
#StoriesWeTell (the #ChallengeWednesday theme on Instagram in honor of RBMS17)
Hope to see you there! It'll be fun.
–Diane Dias De Fazio,
New York Public Library
(your friendly neighborhood @archibrarian)