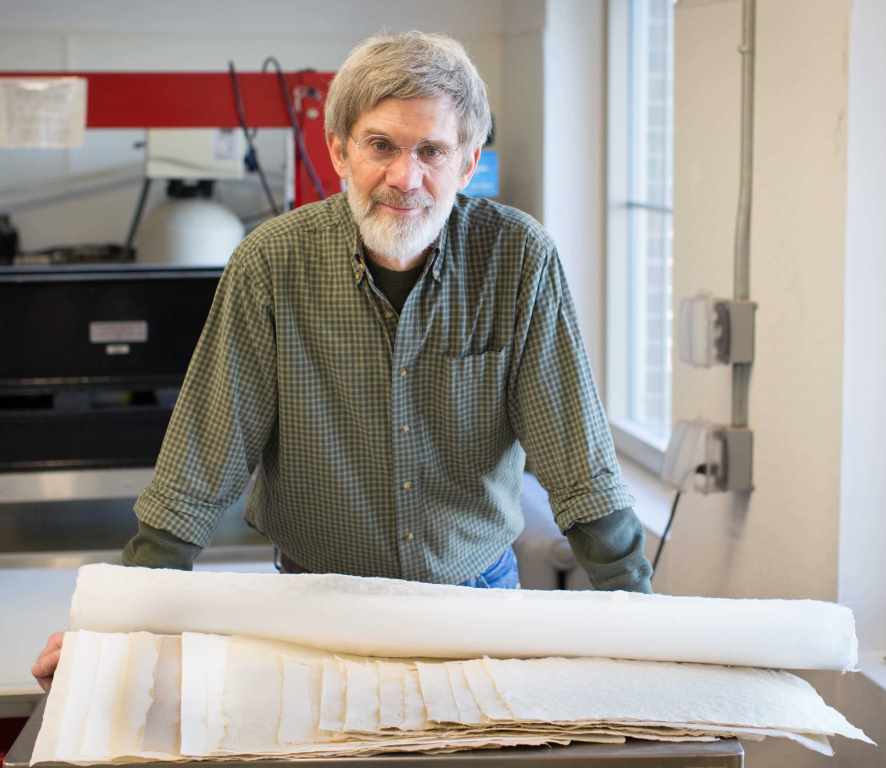 20 Jun 2017
1:00 pm - 4:00 pm
Meet in Sheraton Lobby at 12:45
Center for the Book Paper Facility UI Oakdale Campus 2280 Crosspark Road Coralville, IA
Workshop: Research and Production Papermaking at the UI Center for the Book
Sponsored by Archival Products. THIS SESSION IS SOLD OUT.
Transportation to workshop site: Meet in Sheraton Lobby at 12:45.
Join Tim Barrett for a tour and demonstration of key assets at the UICB Research and Production Paper Facility where Western and Japanese-style papers are made for rare book and art conservation and book arts applications. Tim will show participants the facility, equipment for destructive and non-destructive paper testing, invite everyone to take part in making paper in an historically accurate three person team at the Western papermaking vat, and provide a Powerpoint lecture with discussion about paper research as it relates to the care and conservation of paper based materials. Questions and conversation will be warmly encouraged throughout the workshop.
No experience in conservation or papermaking is necessary. At the end of the workshop, participants will have learned about important hand papermaking terminology, tools and techniques, as well as methods of paper analysis relevant to the care and conservation of rare books and manuscripts.