Up Close and Bookish: Booksellers' Showcase Tours at RBMS19
The RBMS Membership and Professional Development Committee is pleased to announce the annual ABAA Booksellers' Showcase Tours, which will take place on Wednesday, June 19, from 3:45 – 4:30 p.m. Intended to encourage interactions between booksellers and special collections, this informal introduction to the RBMS19 Antiquarian Booksellers' Association of America (ABAA) Booksellers' Showcase will introduce attendees to various booksellers, examine items, and consider how materials on the market can be utilized for instruction and research as well as in collection-building. Finally, the organizers hope this event will serve as an introductory orientation to book fairs and as well as provide opportunities to discuss items and issues of mutual interest between conference attendees and members of the antiquarian book trade.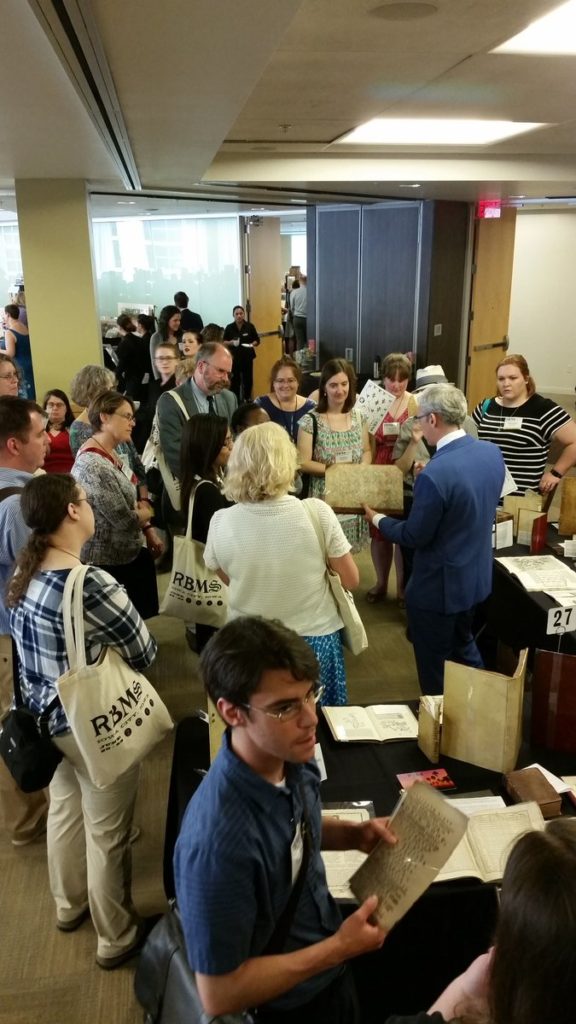 Two groups, led by E.C. Schroeder (Beinecke Library, Yale University) and Daniel J. Slive (Bridwell Library, Southern Methodist University), will meet in the Marriott Promenade Room for a brief introduction and to discuss questions tour members may have regarding the Showcase, book fairs, and relationships between special collections and the trade. During the tours, possible areas of discussion include the sources of items for sale, strategies for describing and presenting materials, opinions on today's marketplace, and communication strategies between dealers and librarians.
The first ABAA Booksellers' Showcase was held at RBMS 2007 in Baltimore. The intention was to provide an opportunity for special collections professionals and ABAA members to meet and discuss materials and concerns by giving the participating booksellers a space to display items from their stock, exemplifying their expertise and interests. The showcase tours began in Philadelphia in 2010; E.C. Schroeder and Daniel J. Slive have provided tours of each year's Showcase, introducing a large number of conference attendees to the marketplace, a significant element in the special collections ecosystem.
Tour registration is on a first-come, first-served basis, and the tours are free! Sign up in our new online form here: http://bit.ly/rbms19abaatours.
At RBMS19, the Showcase and tours will also provide context for a seminar titled "Beyond Commerce: Encounters and Exchanges between Academic Institutions and the Rare Book Trade," on Friday, June 21, 8:30 – 10:00 a.m.
And, this year, small group "mini tours" will also depart from the New Members' Mixer!
We hope you will join us.
–Daniel J. Slive, Bridwell Library, Southern Methodist University
–Susan Benne, ABAA
–Vic Zoschak, Jr., Tavistock Books