Meet the Scholarship Recipients!
By Elspeth Healey and Katie Henningsen, Scholarships Committee Co-Chairs
One of the things RBMS members most look forward to about the annual conference is the opportunity to connect with colleagues at other institutions. Among those who will be joining in the conversation and camaraderie in Baltimore are the 2019 RBMS Scholarship Recipients. These first-time RBMS attendees enrich and diversify our profession and section, bringing new perspectives and ideas. Some are students, some are early-career professionals, and others are simply new to the RBMS conference.
This year's applicant pool for RBMS Conference scholarships was extremely competitive, and we are thrilled to share a bit about the individuals who received scholarships. We encourage you to read about them, their interests, and their accomplishments on the "Meet the Scholarship Recipients" page.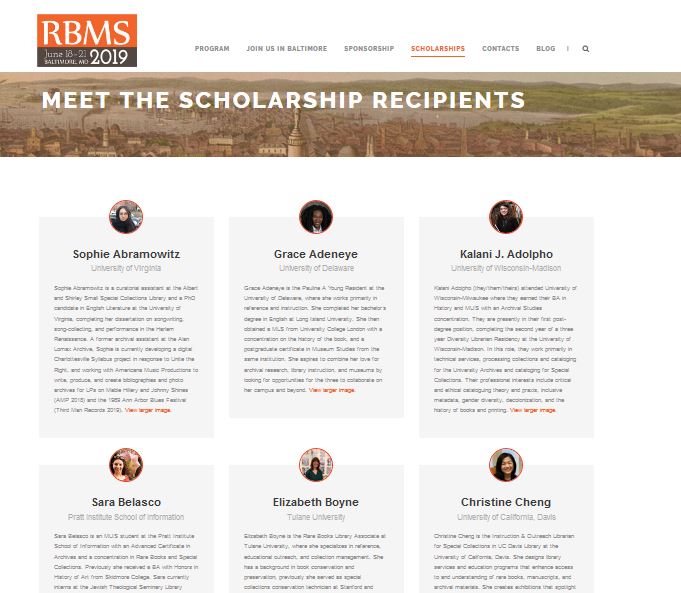 Wondering what kind of experience receiving an RBMS scholarship affords? The post-conference reflections of some of last year's scholarship recipients offer a glimpse. Here are a few thoughts on RBMS 2018: Convergence in New Orleans:

Connecting with the rare book dealers was also a very positive experience. I was not only given the opportunity to meet face-to-face many of the people that I have exchanged emails with in the past, I was also able to meet dealers with whom I was not familiar and discuss collecting areas of interest to both of us. The types of materials my institution collects fall into a somewhat narrow category, so it was wonderful to see the depth of material that can be found even from collectors without the same specialization.

– Emily Arbuckle
The orientation offered to acquaint first-time attendees was beyond helpful! I was very hesitant to do the sub-committee "speed-dating," but much to my surprise, it was a great, quick way to learn from committee chairs about what each committee does to benefit RBMS. As an early-career professional and first-time attendee, it was a great icebreaker! The scholarship breakfast was also a wonderful welcome to the conference. You don't feel so alone when you see all the other scholarship recipients together. I was able to make some conference friends and establish connections with other early-career professionals (and some students too).

-Phillip Cunningham
In a time when our country is experiencing deep political turbulence, the conference's theme of Convergence seemed especially poignant. I identified deeply with the ideas of inclusion, outreach and democratization of collections that were expressed throughout the conference; during the plenaries, seminars and panels I attended I was able to learn strategies that will help me carry out this work. I hope to implement these overarching ideas in my daily activities at the Cuban Heritage Collection, but I also want to recognize that the discussions I participated in fundamentally changed my outlook on archival agency and my role as a steward of the historical record.

… I came away with strategic frameworks and concrete methods to take back with me in my daily activities as an archivist. I interacted with colleagues, old and new, and found a community that I want to actively contribute to as my career progresses.

-Amanda Moreno
Overall, going to the conference was a terrific opportunity to meet archives and special collections professionals from around the world, and to talk with them about what they do and how they do it. The panels and seminars exposed me to current archives and special collections topics such as feminist archiving, community archives, diversifying collections, and job search strategies, as well as new content management and presentation tools. …I feel so much more engaged and prepared to work in archives and I'm very grateful for the experience.

-Gina M. Nortonsmith
…Lastly, I met people at RBMS. I heard about library work in every corner of the country — public and private universities, big and small institutions, places with decent budgets and those facing budget cuts. I talked to people who were mid-career, late-career and early-career. Living and working in New York, I had no previous perspective on the particular challenges and rewards of running a special collection in Fayetteville, Arkansas versus New York, but had the immense pleasure of hearing about it over lunch one day. Talking to people at RBMS was a beautiful reminder that although all rare book librarianship has common themes, there is no one way to do this work.
…In so many ways, leaving RBMS last month felt less like an ending and much more like a beginning as a I look forward into my career and practice.

-Emma Sarconi
"I am not just going to appeal to your intellect, but I'm going to appeal to your soul." Monika Rhue's words at the first plenary spoke true to my overall experiences at the Rare Books and Manuscript Section (RBMS) 2018 conference. I felt practically stimulated regarding real-world practices in the Special Collections field, as well as rejuvenated personally in terms of my motivations in working as an archivist-librarian

-Annie Tang
Inspired? Don't forget that you can help make conference attendance a reality for others by donating to the RBMS Conference Scholarship program. If you missed the opportunity to donate when you registered for RBMS 2019, you can make a donation in any amount via the ACRL Friends portal: http://www.ala.org/acrl/aboutacrl/givetoacrl/givetoacrl. Once you login, choose "ACRL" from the list of divisions, and then scroll down to select the "ACRL RBMS Scholarship Fund."
June is just around the corner! Whether you're a fellow first-time attendee or on your 25th RBMS conference, please introduce yourself to the scholarship recipients and start those conversations that will continue across conferences for years to come!